Chaos for New York Rangers
The New York Rangers have been hinting at an absolute fire sale from their team as they continue to drop points in the highly competitive Metropolitan division.
Yesterday, they sent out a memo to fans saying that they will do everything in their power to get back to being the perennial playoff they are known to be. However, it will most likely come at the cost of some familiar faces.
Reports are that all veteran assets are available including some bigger names such as Rick Nash, Ryan McDonagh, and Michael Grabner.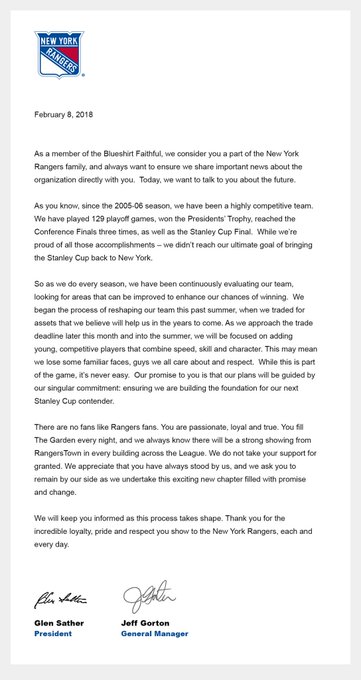 Henrik Lundqvist has not been directly linked to any trade rumors but he has come out and said he wants to remain a Ranger for life. His trade value may also be at an all-time low as he has been pulled early in three of his last six games. Lundqvist has never played in a meaningless game in his entire career so a teardown will be especially hard for the Hall of Fame goaltender but a roster overhaul is a next step for the blue shirts. Lundqvist has said he is all in on whatever the Rangers plan to do in the future, but that very well may just involve moving the King.
Not only has the entire roster been put on high alert but head coach Alain Vigneault has as well. Pressure from fans has been growing since the all-star break but as the Rangers have lost a lot and lost in ugly fashion management may be ready to move on as well. Rangers General Manager Jeff Gorton has refused to comment on the future for Vigneault, a complete change of tone as he strongly backed his coach early this season.
Chaos has ensued in New York and the Rangers, for the first time in recent history, are no longer contending for the cup. While the memo to the fans was a great gesture it will be tough to see the Rangers be at the bottom of the league rather than contending for a cup.
Written by Nick Barnes and republished with permission from Above the Crease.
Follow Nick Barnes on Twitter @SportCastME
HockeyClan continues to upgrade its apps to benefit their growing hockey community.  
Want to write about hockey? Join the HockeyClan community! While you are here visiting Rate Rinks! You can rate every rink you have ever been to based on the most important criteria. Interested in doing your own Player's Blog? Send your hockey story to us at main@hockeyclan.com